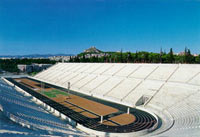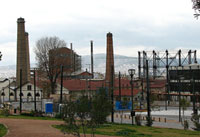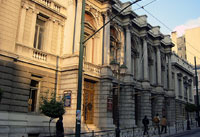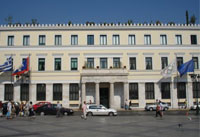 Panathenaic Stadium
Originally a natural hollow part of the ground between the two hills of Agra and Ardettos, over Ilissos river. It was transformed into a stadium by Lykourgos in 330-329 BC for the athletic competitions of the Great Panathinaea Festivities. It is believed that the stadium had a capacity of 50.000 people. At the Roman times it was used as an arena. The Olympic Games were reborn here in 1896.
Gazi(Gaz) Factory Workshops
The Gazi (Gaz) Factory was founded in 1857. It started functioning in 1862 and closed down its furnaces in 1984. It was the last factory in Europe that was functioning in a traditional way until the day it closed. Within its architectural space, one can see a real community, autonomous and self-reliant .The carpenter's shop, the smelting-works, the machine-works, the garage for the car repair works, the restaurant, the barber-shop, the community clinic, were just some of the facilities offered by a well organized closed economy. Today, it serves as a cultural centre.
Location: 100 Pireos Street, Gazi
Athens City Hall
Three-storied building (1874) of austere morphological elements. The propylon on the entrance and the ground floor are covered with marble. The stories are separated by a long cornice. The Town Hall transformed the entire area, known until then as the first prison. It hosts incredible frescos created by Kondoglou and Gounaropoulos.
Location: Kotzia Square
The National Theatre
Hadrian's Library in Athens served as a model for the structure of the monument's facade which consists of a central part immensely enriched by decorative elements, a Corinthian-style column row and two lateral parts of a typical neo-classical composition. The influence from Renaissance buildings is more than evident. Built between 1895 and 1901 in plans by the German architect Ziller, served as the official royal theatre for the King's invitees until 1908 when it was given for public use. The original internal installations for the stage facilities, the lighting and heating were among the most sophisticated of the kind for their times, designed by Viennese mechanics. The central and the New Stage of the National Theatre are currently functioning in the building that was recently thoroughly renovated.
Location: 22-24 Ag. Konstantinou Str.