Transportation in Athens
Athens and its outskirts are linked by the metro, a web of bus and trolley lines, that newly tram and taxis. The transportation means in Athens are very cheap, really organized and you can reach any place in Athens easily. Given the fact that the daily traffic is besides delaying, is fatiguing as well, we recommend you using the Athens transportation means.
Travelling Cards for the Train, Metro, Bus, Trolley Bus and Tram
Monthly Travel Card for Bus, Trolley and Tram: 15€
Monthly ISAP Card (train): 25€
Monthly Metro Card: 30€
Monthly Card for all the means of transportation: 35€
Yearly Travel Card for Bus, Trolley and Tram: 150€
Yearly ISAP Card (train): 250€
Yearly Metro Card: 300€
Yearly Card for all the means of transportation: 350€

Recently the use of a single ticket per way was changed to the use of a unified ticket at the price of 80 cents for all the public means of transportation giving you the possibility of exchanging all the means possible within an hour and a half. Starting from January 2009 the price of this unified ticket will be 1 euro.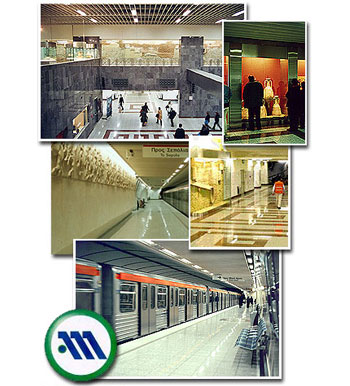 Athens Metro
Trains run every 4 minutes during rush hours and no less frequently than every ten minutes at all other times (expect between midnight and 5:30 am, when the metro is closed). The rates for tickets are:
Ticket valid for 1,5 hour: €0.80 (available in ticket offices and vending machines). Valid up to 90 minutes upon validation.
Daily ticket: €3 (available in ticket offices). Valid for: Twenty four (24) hours after validation and multiple trips throughout all public transportation network (METRO, Buses, Trolley, TRAM).
Weekly ticket price: €10.00 (available in ticket offices). Valid for: Seven days (7) after validation and multiple trips throughout all public transportation network (METRO, Buses, Trolley, TRAM). The weekly ticket is validated only once on your first boarding.
Monthly travel card: €30.00 (available in ticket offices). Valid for: All days of the month indicated on the card and multiple trips only for the metro.
Instructions: Validate your ticket only once at the ticket validating machines at the station before you start your trip. Keep the ticket until you exit the station of your destination. Demonstrate your ticket or monthly travel card to the inspectors when requested.
Attention: A penalty of €48.00 is imposed on those not carrying or demonstrating upon request a valid ticket or monthly card in the trains or inside the compulsory ticket areas(past ticket validating machines).
For your prompt service use your coins to buy your tickets from the vending machines (THE MACHINES GIVE CHANGE). Buy extra tickets to use them on your future trips.
Airport ticket prices:
Single ticket: € 6.00
Return ticket(Valid for 48 hours): € 10.00
2 person group ticket: €10.00
3 person group ticket: €15.00
Reduced single ticket(The young under 18 and the elderly over 65): €3.00
Valid for: a single trip to and from the airport. There is also accessibility for Disabled Passengers.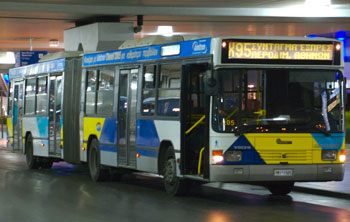 Bus - Trolley
All over the region of Athens you can find, buses, min buses, thermal buses, and trolley. There is a very good network, enabling you to go almost everywhere.
Bus and trolley tickets are €0,80 valid for anhour and half and can be purchased at special booths and kiosks near the bus stops. Once you are on the bus or trolley, validate your ticket by asserting it into one of the orange-coloured meters for that purpose; the ticket will be punched and dated. Keep the ticket until you step off the bus, since it's not uncommon to have a ticket-control.
There is also the 24-hour ticket sold for €3 with a validity of unlimited travel by all public transport modes (buses, trolley buses, metro). However it is valid for only one trip to or from the Athens International Airport "Eleftherios Venizelos".
Athens Tram
The most modern means of mass transit transports us quickly and safely to our destination, connecting the center of Athens with the southern suburbs. It begun operations in July 2004 and successfully transported all passengers during the Olympic Games, despite the limited adjustment time.
The Tram network connects the centre of Athens, through Nea Smyrni with Paleo Faliro and from there it branches out along the coastal avenue to Alimos, Helliniko and Glyfada on one end and to the Faliriko Delta, Neo Faliro and the Peace & Friendship Stadium on the other end.
Tickets are sold at the following prices:
€0,80 Full-price ticket valid for anhour and half for all public means of transportation
€0,50 Special ticket: for journeys of up to 5 successive stops in one direction, or for users transferring to the Tram system from all other public transport modes (bus, trolley, electric railway and metro) provided they retain the ticket used on the previous mode. That ticket must have been validated 90 minutes beforehand maximum.
€0,50 Discount ticket: for young people up to 18 years old and other persons with discounted fare entitlement.
€1,00 combined ticket: valid for 1.5 hour for combined use of any media of transport.
€10 weekly ticket: valid for unlimited transport by all transportation means for 1 week since it is validated.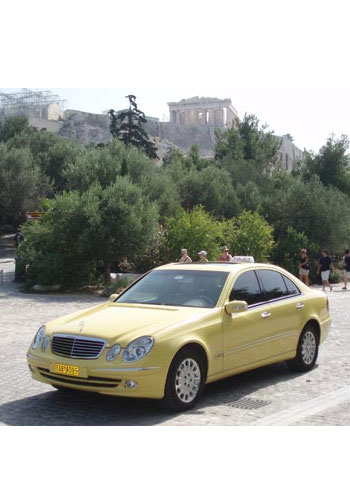 Athens Taxis
Sometimes you wander in the streets of Athens and all you see is those yellow cars... Athens taxis. Let us tell you the truth about Athens cabs: They are relatively cheap and easy to find.
You can normally pick them on the street at any time of the day but you can also call a radio taxi. Sometimes, taxis may be the only or, at least, the best transportation choice (when bus connections are inconvenient, in the small hours etc). However you may find yourself sharing a taxi with strangers... While this is illegitimate in principle, it is, unfortunately, an everyday Athenian little habit.
What you actually have to be aware of is the amount paid to the cab. So we will provide you with some tips:
If you have travel connections to make, it's a good idea to reserve a radio taxi (see below). When you get into a taxi, check to see that the meter is turned on and set on "1" rather than "2"; the meter should be set on "2" (double fare) only between midnight and 5:00 am, or if you take a taxi outside the city limits.
There are about 15 radio taxi companies in Athens; as their phone numbers often change make sure you have the correct one.
Your hotel can make the call for you and make sure that the driver knows where you want to go.
Most restaurants will call a taxi for you without charge.
Keep in mind that it will cost around €35-45 depending on the traffic to get you from the national airport to Omonoia Square, and a maximum of €15 from Omonoia to Piraeus port.