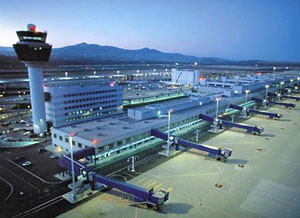 Eleftherios Venizelos Airport Athens
Athens International Airport is located 33km southeast of Athens and is easily accessible via Attiki Odos, a six-lane motorway constituting the Athens City Ring Road.
Public transport to Athens and the port of Piraeus is provided by metro, railway and express airport buses, ensuring efficient transport for air travellers and facilitating linkage to key tourist attractions.
Parking at the airport
Athens International Airport provides 4.700 spaces for short and long-term parking. They are situated in front of the Main Terminal Building on either side of the Airport Hotel and across the Airport Main Access Road. Whichever car park you choose to use, you can be assured you will find high standards of customer service and security.
All parking facilities are equipped with state-of-the-art pay on foot machines for easy and quick payment. A cashier booth also operates 24 hrs a day in every car park. Electronic message screens provide continuous information on parking vacancy.
Transportation from and to the airport
1. Bus
Express Bus Routes
E92 Kifisia - Athens Airport Express
E92 Athens Airport Express - Kifisia
E93 Kifisos Coach Station - Athens Airport Express
E93 Athens Airport Express- Kifisos Coach Station
E94 Ethniki Amina - Athens Airport Express
E94 Athens Airport Express - Ethniki Amina
E95 Syntagma - Athens Airport Express
E95 Athens Airport Express - Syntagma
E96 Piraeus - Athens Airport Express
E96 Athens Airport Express - Piraeus
E97 Dafni Metro Station - Athens Airport Express
E97 Athens Airport Express - Dafni Metro Station
Ticket price: €3.20
Regional Buses - KTEL Express Service
Rafina - Athens Airport
Markopoulo - Athens Airport
Lavrio - Athens Airport
Kalyvia - Athens Airport
Keratea - Athens Airport
Buses depart from the Arrivals Level (close to Door 5) of Athens International Airport. The ticket price for one-way trips is €3,20 for all the destinations except for the port of Lavrio which is a bit more expensive.
2. Athens Metro
The Airport is accessible via Metro Line 3 - "Athens International Airport - Monastiraki"
The journey time from Athens International Airport to Syntagma is 27 minutes and to Piraeus 60 minutes.
Airport ticket prices:
Single ticket: € 6.00
Return ticket(Valid for 48 hours): € 10.00
2 person group ticket: €10.00
3 person group ticket: €15.00
Reduced single ticket(The young under 18 and the elderly over 65): €3.00
Valid for: a single trip to and from the airport. There is also accessibility for Disabled Passengers.
3. Suburban Railway - Proastiakos
Athens International Airport - Neratziotissa Station
The journey time from Athens International Airport to Larissis Station is approximately 30 minutes. After you reach Neratziotissa you can take the train to other destinations of Athens and on the way switch to several metro lines. There are charts and maps on every station.There is a fixed price for all zones at €6.
4. Taxi
The airport is accessible by taxi on a 24-hour basis. Passengers reaching the Airport disembark at the Departures level, where they can proceed directly to the check-in counters. When leaving the airport, please make use of the taxi queue next to Door 3 of the Arrivals Level.
Prebooked taxis are provided upon request and make use of the inner curb of the Arrivals Level as a staging area.
Receipt. According to the Greek Legislation, taxi drivers should provide upon request a receipt for the amount paid for transportation services. The receipt should also indicate the taxi registration number and the driver's name. It will cost you around €30-40 to get you to Omonoia square (the prices range based on time, after midnight taxis are more expensive).